With the following image collection, what I wanted to do was highlight the inconsistencies between how Fuerza Popular (the party of Alberto Fujimori and his daughter Keiko) has branded itself using words and party slogans and how the party is viewed by the wide number of people who have suffered under it. This inquiry began as I stumbled across Alberto Fujimori's relatively active Facebook and Twitter accounts. Herein lied the contradiction that the project has explored and commented on: this ex-president, imprisoned for human rights violations and corruption, still awaiting sentencing on at least one other case, someone who we (students in the study abroad program) have come to understand as little more than a monster, has more likes (120,000+ on Facebook) and followers (26,000+ on Twitter) on social media than any of other contemporary Peruvian politicians, probably combined. In fact, it seemed unfathomable that a person imprisoned for such crimes would even have access to internet and social media – a platform he uses to tell "the true story of Peru" and publish his ideas, opinions, and memoirs. Upon further investigation, not only is Alberto Fujimori popular but his party, and the party of his politician daughter, Fuerza Popular is incredibly popular and expected to win with Keiko the next Presidential election in 2016, despite the fact that Keiko has not officially announced her campaign. This conflict and this tension, between the popularity of the party and its violent and undemocratic past, is where I began my investigation.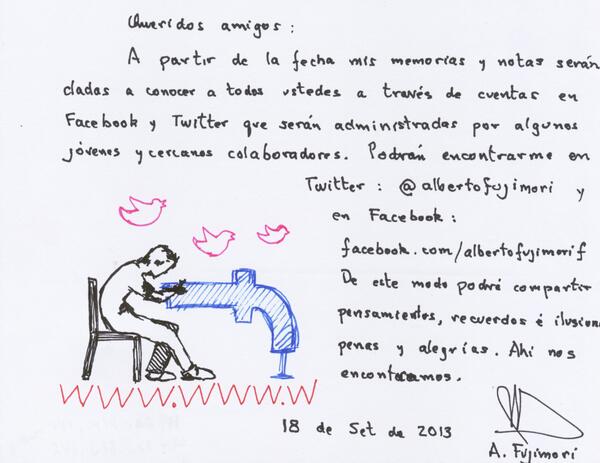 What I found were different ways of looking at the same actions – many contested memories – were the root of this conflict. While others remembered Fujimori's self-coup and experienced his approval of state-sanctioned violence, others remember the capture of Abimael Guzman and the expansion of the Peruvian economy.
Ultimately, I found that I was neither positioned well enough nor knowledgeable enough to take a side. One of the greatest challenges of this project was even attempting to have anything to say at all. We had met many amazing activists, artists, and scholars – several of whom had been personally affected by the actions of Fujimori and Fuerza Popular – and it felt disrespectful to engage in this theme and topic. However, I was advised that this work, if began from a standpoint of solidarity, had the potential to add and not take away from an important conversation.
So I ended up with a series of images, intended to be postcards, that juxtapose images that represent the results of Fuerza Popular policies with Fuerza Popular slogans and quotes from Alberto and Keiko Fujimori via their Facebook and Twitter pages. I was inspired by artists like Karen Bernedo and Elizabeth Lino, and the collective Museo Itinerante to create a project that could act as a sort of public intervention – hence the postcards. I found public interventions to be incredibly powerful and effective at disrupting routinized thoughts by offering a different perspective or presenting information in a way that it is almost invasive and forces one to think. So I went the route of doing a series of postcards. I chose a font that is typically seen on postcards worldwide, one that is friendly and inviting, and some of the cards have borders and on others the image takes up the entire frame of the postcard which is congruent with the variety of types of postcards that are sold. I also chose to place the text in areas that at once highlight and label the image, as is conventional for a postcard, and used an orange colored font which is the color of the Fuerza Popular party.
This first image is taken from Alberto Fujimori's TV address when he informed the nation that he had temporarily dissolved congress, assumed all powers of the legislative and executive branches of government, had plans to reorganize the judiciary, and had essentially performed a self-coup turning his presidency into a dictatorship. This announcement came at the high point of political violence in the country and was justified as being an act that would allow him to better rid the country of terrorism and bring Peru into the International Financial Community. The quote on the image comes from his Facebook page in which he had written an op-ed of sorts expressing his discontent at the discontinuance of preferential voting in Peru claiming that without that system "no habria un democracia" or "there will be no democracy". Alberto Fujimori was in office from 1990 – 2000 when he fled from Peru to Japan amidst a corruption and human rights violation scandal.
This image was taken at a march that happened in November 2013 demanding justice for the more than 300,000 men and women, most of them Andean or Indigenous, who were forcibly and brutally sterilized, resulting many times in death, by the Fujimori government as part of a family planning initiative. The quote comes from a rally for a recently registered political party, sympathetic to the Fuerza Popular, at which Keiko Fujimori was speaking. Applauding the party's roots in organizing such community efforts as Vasos de Leche or community kitchens in the area, she remarked that "llego la hora de la mujer peruana" or "the hour of the Peruvian woman has arrived." The victims of the forced sterilizations are still seeking justice.
This image comes from a protest against the construction of Tia Maria, a proposed copper mine, in Arequipa. This mine threatens to devastate the environment, in particular contaminating the water, and alter the economic landscape of a region that relies heavily on agriculture, not to mention the deadly effects on the health of miners should the town be turned into a mining town. Many of the local people have been against the mine for years yet the government continues to attempt to push forward with it. To date seven people had died as a result of the conflict and nearly 200 have been injured. The quote comes from a Fuerza Popular party slogan that branded the party during the last election as one of "Seguridad y Oportunidad" or "Security and Opportunity." As seen with the crack-down against protestors in the image, this opportunity is not one that the people particularly want nor is the security provided for them but actually for the state. While, the particular military response depicted comes from the current government of Ollanta Humala, economic openness in Peru really began under Alberto Fujimori and as a result Peru really saw a huge expansion in activities like extractive mining that have had severe and dire consequences. It is unlikely that this activity would end or that extractive mining in particular would be denounced by future governments, especially any government run by Fuerza Popular.
This image is probably one of the more post-card-like images in that it is very clearly the Peruvian flag. However, instead of the coat of arms in the seal in the center of the flag (if a flag has a seal in the center that means that the building that it is on or the place in which the flag is located is an official state building or location) there is a cantuta flower. With this particular image I wanted to acknowledge the La Cantuta Massacre of nine students and their professor in 1992 by a military death squad. This particular case is among one of the crimes for which Alberto Fujimori has been found guilty and sentenced to 25 years in prison.
#BastaYa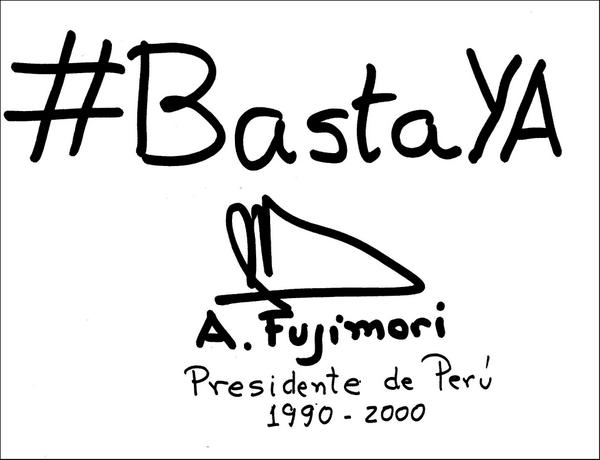 While the tweets and Facebook posts that I have used to inform my project did not lend themselves very easily to a compilation and unique website as I had hoped, I would like to include a level of analysis that might help in understanding the reasoning behind some people's support of Alberto Fujimori. After combing through more than 400 tweets and 2 years of Facebook posts three main themes that Fujimoristos support and that Fujimori himself perpetuates arose:
He's Old. Many people believe that the 76 year old is too old to be serving out his time in jail and that he should be pardoned on the basis of poor health and agedness. His health and comfortability are regular topics of twitter and Facebook accounts which also serve to drum up sympathy for his case. Further, he complains of mistreatment and abuse within the prison, including restricted visitation and phone use.
He Saved Peru from Terrorism. Many people credit the capture of Abimael Guzman to Fujimori and, while some people died in the process, Fujimori is credited with ended the decades of political violence and terrorism in the country.
He Governed Well. Many people credit Fujimori with opening and expanding the Peruvian economy, ushering Peru into the international financial realm, and is credited with the ending hostility between Peru and Ecuador. At times he comments on the governance of current political leaders, particularly current President Humala, but he mainly recalls the glory days of his presidency highlighting his personal beliefs and philosophies of good governance.
Conclusion
In the end, I am happy that I was encouraged and able to continue with this project despite my initial desire to want to stop and move on to something else. Aside from this being my first foray into any sort of creative expression of my research, it was a difficult and challenging topic to engage in, having been so close to and knowing people who had been so dearly affected by Alberto Fujimori and the years of political violence. This topic is incredibly polarizing and I felt that I had to tread very lightly, which I did. However, I learned a lot about myself and my academic tendencies and I feel emboldened enough to be able to continue to engage in difficult and challenging discussions that are current and tangible. In the future, related to this work, I hope that more and more people challenge the predominant narratives, through art or otherwise, and seek to uncover truth, however contradictory and subjective that truth may be. In fact, there is quite a vocal faction of organizers and anti-Fujimori activists who continue to raise awareness and fight for justice, commited to keeping Alberto in prison and Keiko out of office including groups like:
No A Keiko | Fujimori Nunca Mas
For myself, I know that this project has been influential for my academic career moving forward and I hope to continue to do interesting and intriguing work.